Hot temperatures are hard to deal with. One excellent way of decreasing the temperature in your home is a ventless portable air conditioner. It works without an exhaust hose and can be easily moved from room to room.
Let's look at the Top 5 ventless portable air conditioners on the market.
Best For Small Spaces
Honeywell Portable Evaporative Cooler
Check Price
Best Overall
NewAir Portable Evaporative Air Cooler
Check Price
Best For Large Spaces
Hessaire MC18M Portable Evaporative Cooler
Check Price
Best Ventless Portable Air Conditioners Review
A small but powerful portable air conditioner that you can keep next to your work table to keep you cool. It covers a 120 sq. ft. area (not large enough for most living rooms or a master bedroom) but enough for a smaller bedroom. It has a powerful 194 CFM fan. It works well for a localized area.
Features
120 sq. ft localized cooling
194 cubic feet per minute airflow, with 145W of power. Not very efficient, but airflow is powerful.
Ultra sleek design – 11.5 x 11.6 x 29.6 inches. It takes up incredibly little space. It's the smallest cooler on my list.
12-gallon water tank. One filling can work for days on end.
Localized, Powerful Airflow: with a 194CFM airflow output, this cooler with a fan is perfect for a small space such as your work desk or to keep it near your bed when you sleep.
Space Saver: at 11.5 x 11.6 x 29.6 inches, this is the sleekest air conditioner on my list. It takes up less space than a single tile on your floor. Despite that, its tall design allows for ample cooling around the room.
No refills: with a 12-gallon water reservoir, the cooler can run the entire night without refilling it. When the water level is nearing the end, there is a low water indicator that turns on. And it's pretty easy to fill water too; there is an easy access door that lets you fill it up quickly.
Dust Filter: there is an easy wash dust filter inside the cooler, which keeps the inside of the evaporative cooler debris clear.
Three modes: this is not just an evaporative cooler but it can also work as a dehumidifier in the winters and it has a simple fan to use instead of the cooler mode when the heat is not that high.
PROS
High 194 CFM airflow.
The extra-large 12-gallon water reservoir.
Easy fill door for water, and low water indicator.
Acts as a dehumidifier, fan, and evaporative cooler wrapped in one.
CONS
It cannot cool beyond 120 sq. ft, so it's not meant to cool the entire room.
Despite only a 145W motor, it can be a bit noisy at 59 dB.
Honeywell is a trusted brand in air conditioners. This simple and effective evaporative swamp cooler from Honeywell is perfect for keeping near your bed, work table, or in the living area.
If you are looking for a powerful cooling capacity that can reduce your room temperature by 20 degrees in an instant (ok, well a few minutes, but you get the drift), this is the portable air conditioner you want. If your room size is less than 300 sq ft., this is one of the best ventless portable air conditioners in the market.
Features
300 sq. ft cooling capacity.
1000 cubic feet per minute airflow, with 200W of power. High airflow efficiency (source).
Sleek Tower design – 12 x 15 x 35.5 inches.
5.3-gallon water tank. It does not require a lot of refilling.
Efficient Airflow: at a mere 200W of power, the NewAir portable air cooler can generate an airflow of 1000 CFM. The high airflow efficiency means you get great cooling with a low electricity bill.
Sleek design: the air conditioner has a sleek design, taking up very little space. Its dimensions are 12 x 15 x 35 inches. The extra tall 35 inches allow the cooler to be sleek and space-saving.
No refills: it has a 5.3-gallon water reservoir, which lets you fill it and forget it for at least four to five hours. You don't have to keep refilling the cooler.
Other features: the powerful air conditioner has an easy-to-use remote and an oscillating feature that distributes cool air throughout the room. There are caster wheels at the bottom for easy movement. It also comes with a one-year warranty.
PROS
Super efficient airflow.
Large water reservoir, no refills needed.
Remote operated.
The oscillation feature covers the entire room for cooling.
CONS
It can be a bit noisy. At a maximum noise level of 68dB, it can be as loud as being out in city traffic (source).
The NewAir portable cooler is one of the most efficient ventless portable air conditioners on our list. With just 200W of power, it produces a very high airflow. If you live where it is dry and hot, this is just perfect for cooling a medium-sized room (up to 300 sq. ft.).
Most portable air conditioners do not have a large cooling footprint. If you have a large room but live in a dry and hot place, the Hessaire MC18M is perfect for you. It can cool up to 500 sq. ft. of room space with a high 1300 CFM airflow.
Features
500 sq. ft. cooling area.
1300 CFM airflow with just 85W power usage.
Pump mode for extra cooling.
Molded ABS body.
UV coating for outdoor usage.
Continuous fill mode that eliminates the need for manual water filling.
1-year warranty.
Simple operation.
High Cooling Efficiency: with a 1300 CFM fan and a pump for additional cooling, the portable cooler is perfect for rooms that are 500 sq. ft. or less. It uses up only 85W of power to deliver this high airflow.
Easy fill: the evaporative cooler has a continuous water fill option that eliminates the hassle of filling water. If you do not want to use it, it has a relatively sizable 4.8-gallon tank which can easily last three to four hours. There is a water level indicator as well.
Durable: with a molded ABS body, this evaporative cooler is corrosion-resistant and durable. It has a UV protection coating as well for outdoor usage.
Simple operation: it has just a single dial and only five modes to control all its functions: Cooling Hi and Low (with pump), Fan Hi and Low (without pump), and Only Pump (for pre-wetting the pads).
PROS
Largest cooling area, cools up to 500 sq. ft.
Continuous water fill mode eliminates the need for refills.
Very low power usage, only 85W.
Pump Mode for extra cooling, or fan only mode.
Durable molded ABS body.
Adjustable louvers for managing the direction of airflow.
1-year warranty.
CONS
No remote.
No automatic oscillation.
If you have a large space that needs cooling or if you live in a hot and dry part of the country, then this is one of the most energy-efficient yet powerful evaporative coolers in the market.
If you live with children or pets, a table fan of any kind can be a dangerous thing. Children may put their fingers between the fan's blades, which can cause severe injuries. The Breezewell 2-in-1 evaporative cooler uses a bladeless fan which makes it safe for children.
Features
450 sq. ft. cooling area.
It uses only 80W of power.
Includes two ice packs for extra cooling.
40 degree oscillating, bladeless fan.
Super-sleek – 32 x 14.8 x 10.7 inches.
8-hour timer and remote.
Power Saver: it can cover nearly 450 sq. ft. of room space for cooling while using up only 80W of power.
Removable Water Reservoir: a pervasive problem with tower-shaped evaporative coolers is that the water reservoir is difficult to fill and even more challenging to clean. With its removable 1-gallon tank, the Breezewell portable evaporative cooler makes the task of keeping the water reservoir clean very easy.
Ice Packs: the portable cooler comes with two ice packs, which will add to the cooling effect of the cooler.
PROS
Cools 450 sq. ft. with merely 80W of power.
Removable 1-gallon water reservoir with two ice packs.
Bladeless Fan, with 40-degree oscillation for airflow control.
Lowest noise level; only 38dB.
Remote and three fan modes.
CONS
No warranty.
Tiny water tank. It may need a lot of refilling.
The Breezewell is an excellent product if you live with children and are looking to save up on your electricity bill while still cooling up a reasonably big space.
If you live in a hot and humid area, you should buy a portable air conditioner instead of an evaporative cooler. Evaporative coolers pass hot air through a cooling media filled with water (source), so the air itself becomes a bit moist. In humid conditions, moist air will cause more perspiration rather than cooling you down.
If you are looking for a portable indoor and outdoor air conditioner, Whynter Elite is a terrific choice. It can cool up a room of up to 400 sq. ft. in no time and even acts as a dehumidifier or a fan when needed.
Features
400 sq. ft cooling area.
12000 BTU power.
Sleek design : 20 x 16.5 x 34 inches.
61°F – 89°F temperature control.
Programmable timer.
1-year warranty.
Multifunctional – cooling, fan, and dehumidifier.
Triple action: this portable air conditioner can be used for cooling, as a simple fan with 188CFM power or even as a dehumidifier when the humidity is very high.
Powerful: 12000BTU of cooling power is enough to cool between 350-450 sq. ft. of room space comfortably.
Eco friendly: a significant drawback of air conditioners is the use of CFC as a refrigerant, which leads to ozone layer depletion (source). However, the Whynter Elite uses an R-32 refrigerant, which is much more eco-friendly.
Odor Control: this air conditioner has an activated charcoal filter that keeps out smoke, foul odor, and bacteria.
PROS
It can be used both as a cooler and a dehumidifier.
Sleek design.
Eco-friendly R-32 refrigerant.
Activated charcoal filter.
24-hour timer.
1-year warranty.
CONS
Uses up 1100W of energy.
Expensive.
It does not oscillate in fan mode.
It is a perfect portable air conditioner for hot and humid conditions. It can cool up to 400 sq. ft. (decent-sized living rooms and almost all master bedrooms) and works as a fan or a dehumidifier too, when needed.
Previous Best Ventless Portable Air Conditioners
Below is our previous list and some of the products may no longer be available but we've kept the list as a reference.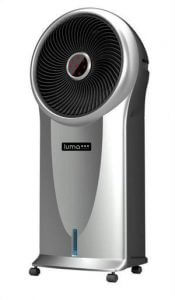 If you are looking for a ventless air conditioner that can chill the room like a pro then Luma EC110S is your best bet. It's the most effective when it comes to bringing down the heat as it can reduce room temperature by up to 30F.
Features:
Works on cyclonic cooling technology
A cooling range of 250 sq. ft.
3 cooling speeds with multiple wind modes
Whisper-quiet design
Longer runtime (8 hours).
Customization: You can choose the speed and wind mode. It offers 3 wind modes along with 3 different fan speed options.
You can start off with the max setting to make the room chilly and then reduce it to make it run silently.
Top Notch Cooling Tech: The unit operates on a cyclonic cooling technology that's known to be quick. You will not have to wait for hours for the room to feel cooler.
However, Luma Comfort EC110S is a small room portable air conditioner that can cover up only to 250 sq. ft. of space.
Performance: The unit looks good and performs exceptionally well. Evaporative cooling makes you feel comfortable by not only reducing temperature but also making the air fresher.
Thanks to a unique design, the unit works silently and will not cause any disturbance.
Energy Saving: It consumes 75% less energy than standard AC units. Moreover, it also has a timer to save energy.
PROS:
Don't need to be vented
Remote operable
A detachable water tank is easier to fill and clean
Lightweight (16 pounds only)
CONS:
Not suitable for humid areas
Luma Comfort EC110S Portable Evaporative Cooler with 250 Square Foot Cooling, 500 CFM can be a good option if you live in dry and hot areas. It works well for small rooms but may not be suitable for larger spaces.
If you want to cool a small indoor space without using too much power then bring home Honeywell CO30XE 525 CFM portable swamp cooler.
It's a low-noise generating unit that is capable of chilling a dry and humid room in a few minutes. If you live in a region that experiences less than 60% humidity you should definitely consider this AC.
Features:
Covers 320 sq. ft.
Uses only 52 watts of power.
Equipped with a low water alarm.
3 fan speeds.
Power-Saving And Powerful Unit: This is a power-saving ventless portable AC that lowers the temperature in no time. It offers three fan speed options. You can choose the lowest speed if you want it to operate silently.
While the unit is powerful, it is meant to cover smaller rooms only because it delivers 525 CFM of cooling air.
Longer Runtime: It incorporates a 7.9-gallon fuel tank provides with hours of operation. It also has an alarm system to inform you when it's time for a refill.
Portable And Easy To Use: The swamp cooler comes with a remote control that makes it easy to operate. It weighs 25 pounds and has wheels as well for added portability.
Performance: The unit may cover a small area but its performance is top-notch. You can also place ice packs to make the ventless air cooler in a special ice compartment.
You can also connect a hose directly to refill it, making the job easier.
Programmable: You can also program the unit to work for up to 7.5 hours using the timer. This is a great feature when you want to sleep or work without having to worry about the AC.
PROS:
No need to connect to a window
Can be used both indoors and outdoors
Weather resistant
Customizable thanks to features like body-level air throw and humidity control
CONS:
Suitable for small-medium places only
Honeywell CO30XE 525 CFM Indoor Outdoor Portable Evaporative Cooler can be a great choice for small to medium rooms. It is remotely operable and also can be set on a timer so that you don't have to wake up at night.
Luma Comfort EC220W is a 2-in-1 ventless portable air conditioner and tower fan with function humidifies. It offers excellent coverage with a bunch of incredible features.
Features:
All in one: an air cooler, tower fan, and humidifier.
Covers an area of 650 sq. ft.
Contains water level indicator.
Offers 3 wind modes and 4 fan speeds.
Cooling Coverage: One of the most important factors that indicate the power of an ventless portable AC unit is the cooling coverage it has.
Luma EC220W covers an area of 650 sq. ft., which equals to a 1.5 ton AC. One unit will be enough for such a big space.
Fan Speed: This unit offers four fan speeds that deliver up to 650 CFM of cool air. The lowest speed is the best if you want it to operate silently.
You can also add ice packs to make the fan cool down the air. This can be a good option for very hot days. The fan is said to make you feel about 8 degrees cooler (at max speed).
Water Connection: Since this unit works on an evaporative cooling technology, it requires a water-filled tank to chill the room.
It has a large 10.6-gallon water tank that is super easy to refill. You can pour water from the top or bottom and even detach the water tank to clean or refill it. You can also fill the tank by directly connecting a water hose.
Performance: Luma Comfort EC220W High Power 1650 CFM Evaporative Air Cooler with 650 Square Foot Cooling stands tall when it comes to the overall performance.
It has a powerful blower that draws in outside air, passes it through three cooling pads, and pushes out cooler air.
Other than this, it's also able to catch airborne particles and give out fresh and healthy air.
PROS:
UV protected ABS plastic doesn't corrode
Uses 80% less energy than conventional ACs
The tank will easily last for 24 hours
Equipped with a water level indicator gadget
No ducts involved
Extremely lightweight (42 pounds) and easy to move thanks to the wheels
CONS:
A bit louder at full speed
If you are looking for a superior ventless portable AC that can eliminate the dryness and humidity from your room then pick Luma EC220W. Thanks to evaporation technology, it can be a good choice for dry states.
LG is famous for producing high-end air conditioners that ensure top air quality, silent operation, and easy installation and maintenance, including some fascinating portable models. Overall, this graphite grey model has several working modes and useful options. It is designed especially for cooling spaces up to 400 square feet, with 12000 BTU.
LG LP1217GSR 115V comes with a cord that is 6 ft long and has swing louvers for extra comfortable cooling and elimination of hotspots. It also has an automatic evaporation system and a dry air flow feature. Are you afraid that cold air might harm you? No worries, as you can choose the top inclined mode to protect yourself from it.
To sum up, the performance of this LG portable air conditioner model features a silent mode, a turbo mode, and programmable timers within the 24-hour timeframe. We especially recommend it for those who appreciate the timer feature, air conditioner portability, air quality, and are looking for cooling a room smaller than 400 sq ft.
PROS
Easy to install and operate
High air quality
CONS:
The grey color may not suit everyone's interior design
The transition from the "fan" to "cool" mode is somewhat slow
Whynter is an award-winning air conditioner brand famous for very powerful and fast air conditioners. This model that comes in platinum and black color is not an exception. ARC-14S with 14000 BTU is a top rated portable AC unit that perfect for rooms equal to or smaller than 500 square feet.
When should you consider this model? If you are looking for a 3-in-1 model, with a fan, air conditioner, a dehumidifier, a 24-hour programmable timer, and a lead-free, eco-friendly appliance, you might want to think about this model by Whynter.
It has a very powerful dehumidifier, which is its strongest asset. It comes with remote control, filters, and a full installation kit, including a hose.
We recommend it for those who value eco-friendly products with water-air recycling technology and look for a portable model suitable for a room up to 500 square feet.
PROS:
Quick cooling
Eco-friendly model
CONS:
This model comes with just a 1-year warranty
Read our full Whynter ARC-14S Review
Ventless Portable Air Conditioners
As soon as summer starts, people start looking for efficient means to cool themselves down. While regular air conditioners can do this job, some people opt for ventless portable air conditioners to meet their needs.
But what are they exactly? How do they work? Are they better than the regular AC units?
What are Ventless Portable Air Conditioners?
Ventless portable air conditioners are compact units that cool down the room without having an exhaust hose. This feature makes them exceptionally portable, allowing you to move them from one place to another.
Unlike window or central ACs, these units do not require installation and can be set-up easily without the need for hiring a professional too. Also called swamp coolers, ventless air conditioners perform best in dry environments.
How do Ventless Portable Air Conditioners Work?
These evaporative coolers function quite differently than a mini-split system or portable air conditioners. In regular vented ACs, heat is taken from inside the room and exchanged with fresh air from the outside. These units use refrigerant-based systems to cool down the outside air to the desired temperature and blow it into the room.
Meanwhile, a ventless AC does not require a hose to ventilate the room, minimizing the need to install it near a window. Instead, these air conditioners use a tank of water to cool down the warm air inside the room. The method is quite simple. The machine draws in the air from the room through a spongy damp medium, which takes in the heat from the air molecules. In return, the water in the sponge evaporates, cooling down the room temperature air.
By using the natural process of evaporation, this ventless air conditioner eliminates the need for the hose for heat exchange. Next, an integrated fan blows out the cool breeze inside the room to give you relief during hot days. The water reservoir is generally installed at the bottom of the air conditioner. While these AC models use pumps to keep the cooling pads damp, other models use gravity by keeping the tank at the top. Additionally, many models can use ice in the water tank to provide colder air.
If you want more efficient results, keep the ventless air conditioner near an open window or door to allow fresh air inside the room.
Benefits of a Ventless Portable Air Conditioner
Since they do not have an exhaust system or vents, these air conditioners are truly portable. Neither do you have to install them permanently, nor do you need an expert to set them up.
Apart from these, let us take a look at some other benefits:
With low energy consumption operation, these AC units use fewer fuels and are eco-friendly.
Instead of using compressors to cool and blow the air, the fan uses just 100 to 200W. Hence, these economic models save you a lot of money.
Since they do not have any parts exposed to the environment, you do not have to waterproof anything.
They add moisture to the air, making them perfect for use in dry arid regions.
These models require minimum maintenance.
Buyer's Guide: How To Choose The Best Ventless Portable Air Conditioner?
You need to consider a few points in order to choose the best ventless portable AC for your home.
Cooling Coverage
First, determine how much cooling coverage is ideal for your room. This will require you to measure the room area in square feet.
The unit should be able to cover the entire space to ensure every corner of the room is comfortable and cool. Luma Comfort EC220W, for example, can be great as it offers excellent coverage.
Ventless Portable AC Runtime
This is important as some units only offer about 3 hours of run-time, which may not be enough.
Pick a unit that offers at least 8 hours of run-time so you can sleep without worries. The size of the tank plays a very important role here.
Timer/Alerts
It can be frustrating to wake up in the middle of the night to take care of the ventless air cooler. You can avoid this by choosing a unit that has a timer option. You can set it to shut down automatically to save energy and reduce effort.
Other than this, pick a unit that sends low water alerts so that it doesn't have to run when the water level is low as it can be bad for the unit.
Honeywell CO30XE 525 CFM can be a good pick, it has a remote control and an alert system as well.
Performance
It is important to make sure tha you pick a unit that offers excellent performance. Some factors that can influence the performance include customization options (fan speeds), the ability to use ice, etc.
Ease To Use
Consider how easy it is to use a unit. Some manufacturers offer detachable tanks for added ease. Plus, some portable ductless air conditioners even come with remote controls so that you do not have to move every time you want to change settings.
Luma Comfort EC110S 500 CFM can be an excellent pick as it offers good performance and is customizable as well.
Portable Air Conditioner Noise Level
You do not want to go for a unit that's too noisy. It will disturb you and cause you to feel irritated so pay attention to the level of noise a unit creates when it is operating.
Related: The Quietest Portable Air Conditioners in 2023
In the end, choose a portable air conditioner or ventless AC unit that fits your needs. All the three options discussed above are great, pick one that suits you the best.
Portable AC Units: Dual Hose vs Single Hose
In a portable air conditioning system, hoses are perhaps the most important setup element. Regardless of the number of hoses, the air conditioner has to pull in hot air and expel it outside through a vent while drawing in air from another one.
On a summer day, your air conditioner needs to regulate the heated air it produces, more than the heat outside. For this purpose, you need to choose from two different configurations for air conditioners. Here are some details for each to help you get an insight.
Single Hose Portable Air Conditioners
Single hose air conditioners are the most common and basic of air-cooling system designs. The technology uses an air compressor to draw out the heat from your room. In turn, this warmth is expelled outside through an outer unit, creating negative air pressure in the room.
The single-hose design works great for small and medium-sized rooms. Although, it proves to be inefficient in retaining the cool environment.
That's because these units work with a single hose while the dual-hose unit works with two hoses. This means that at some point, enough warm air is entering your room to fill the air drawn out, as compared to the warm air the air conditioner is drawing out. This makes the unit work harder, which uses more energy.
However, if you need a highly portable machine, then the single hose unit is the one for you. You can easily move it closer to you when you need more cooling. Also, always check the BTU of a single hose unit before purchase, as they differ depending on the brand.
Dual Hose Portable Air Conditioners
Needless to say, this is the advanced version of a single hose unit and has two different exhaust hoses working together. Each of the hoses has different functions, which makes the machine operate more efficiently. One of them works as an exhaust pipe and draws out the hot air from the window. Simultaneously, the other hose draws air from the outside.
Here's how it works:
The unit takes the warm air from the room, cools it down, and expels it out again. However, you'll face a problem when using the single-hose unit for this, because in this case, the unit itself gets heated up.
To eliminate this issue, the second hose in the dual-hose unit takes air from the outside and uses it to cool down the compressor and condensing coils inside the machine. This helps the machine ensure consistent cooling for long intervals, even in spacious rooms.
Both of these types of air conditioners have their pros and cons. While the single-hose system is a bit primitive, it works great for small rooms, it is easier to move around, and is light on the pocket.
On the other hand, the dual-hose system is more expensive but has a longer system lifespan and works faster in larger rooms. In the end, the choice depends on your needs and your budget.
Tips to Make a Portable Air Conditioner More Efficient
Do you want to make your portable air conditioner as efficient as possible? With these tips not only can you get your money's worth, but also ensure more efficient operation of your appliance.
Installation
It may not seem important but the installation location of your portable air conditioner is important. If you want your AC to work better, avoid sunspots and high humidity areas when installing your air conditioning unit.
Ventilation
It is only through ventilation that you can get rid of hot air in the compressor of your AC. Proper ventilation not only saves your AC from overheating but also helps maintain the temperature of the room.
Keep the Exhaust Hose Straight
Along with ventilation, taking care of the exhaust hose can also increase the efficiency of your portable air conditioner. Make sure you minimize coils, kinks, and twists in the hose as it should remain as straight as possible to let moisture pass through.
Clean Air Filter
This goes without saying, but regular cleaning of your AC is very important. You need to clean the filters of your air conditioning device every 6 to 8 weeks. This can help you stretch the life of your portable AC.
Storage
When you're not using the air conditioner, we suggest you clean the filter and drain the water container completely before storing it. It should be kept in a safe and dry place. Avoid storing it in places, such as the garage or patio with extreme temperatures.
You may also like the video review of the best portable air conditioners in 2023:
Read also: